Archdesk allows you to track the Payments made by the client on each Quote.
Let us take the case where the client will pay in Stages - 50% up-front and 50% when the job will be completed.
Here is how you should process the Quote, the Sales Invoices and Payments attached:
First thing first: Make sure that your Quote has a Client assigned from the Database (Project > Quote > File > Edit > fill in the Client tab).
Once a Client is assigned, go to the Payments tab inside the Quote and see if the setup is correct for the Stages you have. If not, choose Options > Edit Payment Terms and make the changes. Click here to read more about How to change the Payment Terms and Payment Terms type.
At this point we can: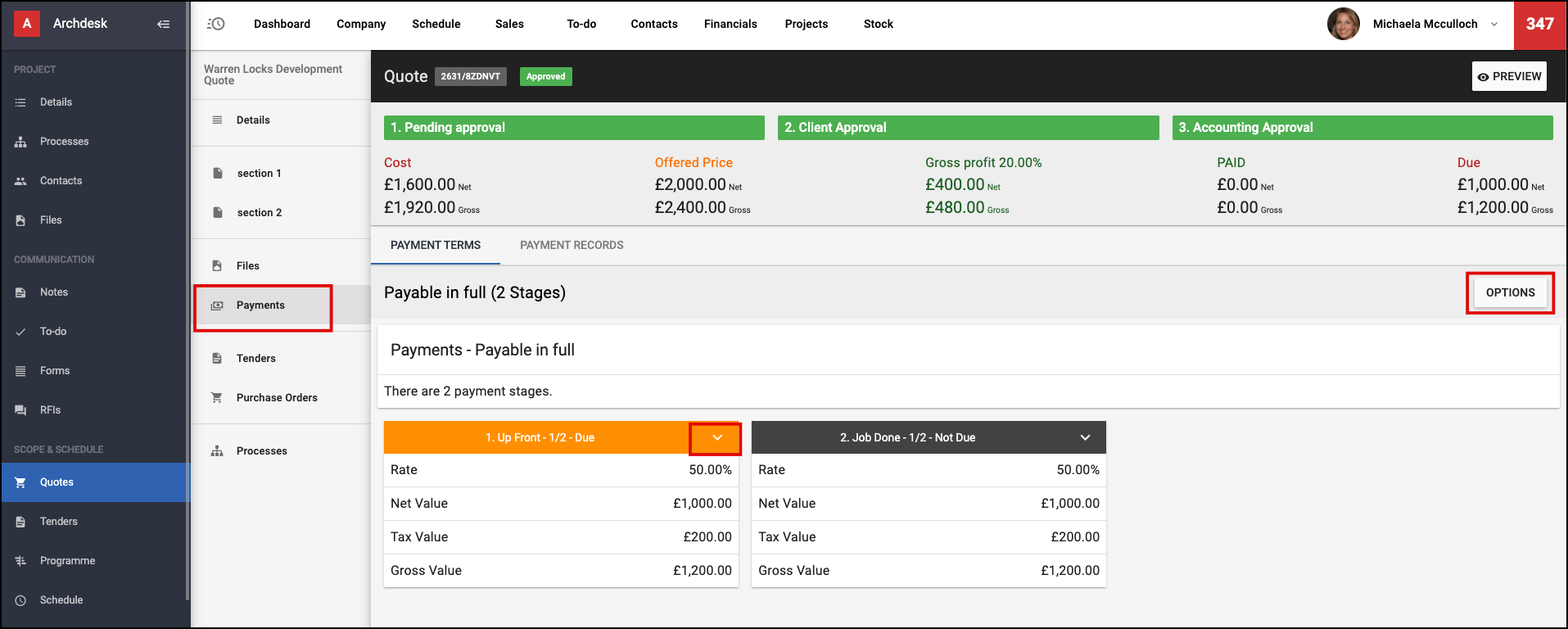 A. Add Payment in Advance and then create the Invoice
We have an Advance Payment (50% - at the beginning of the job). Here are the steps to take:
Make sure the Quote is fully approved, before proceeding with the next steps.
Go on the first Stage and mark the Deposit as Due - Archdesk will auto-calculate the Due Amount for it.
Go back to the first Stage dropdown and select the Add payment record option > Search for the Payer and add from database > Save > Archdesk will ask if you will like to Create a Invoice or Assign to an existing Invoice > Choose to Create New Invoice and make sure you fully approve it. Once approved, that invoice will flow to your accounting system (Xero, QuickBooks).
Once that is done, the first Stage will be marked as paid.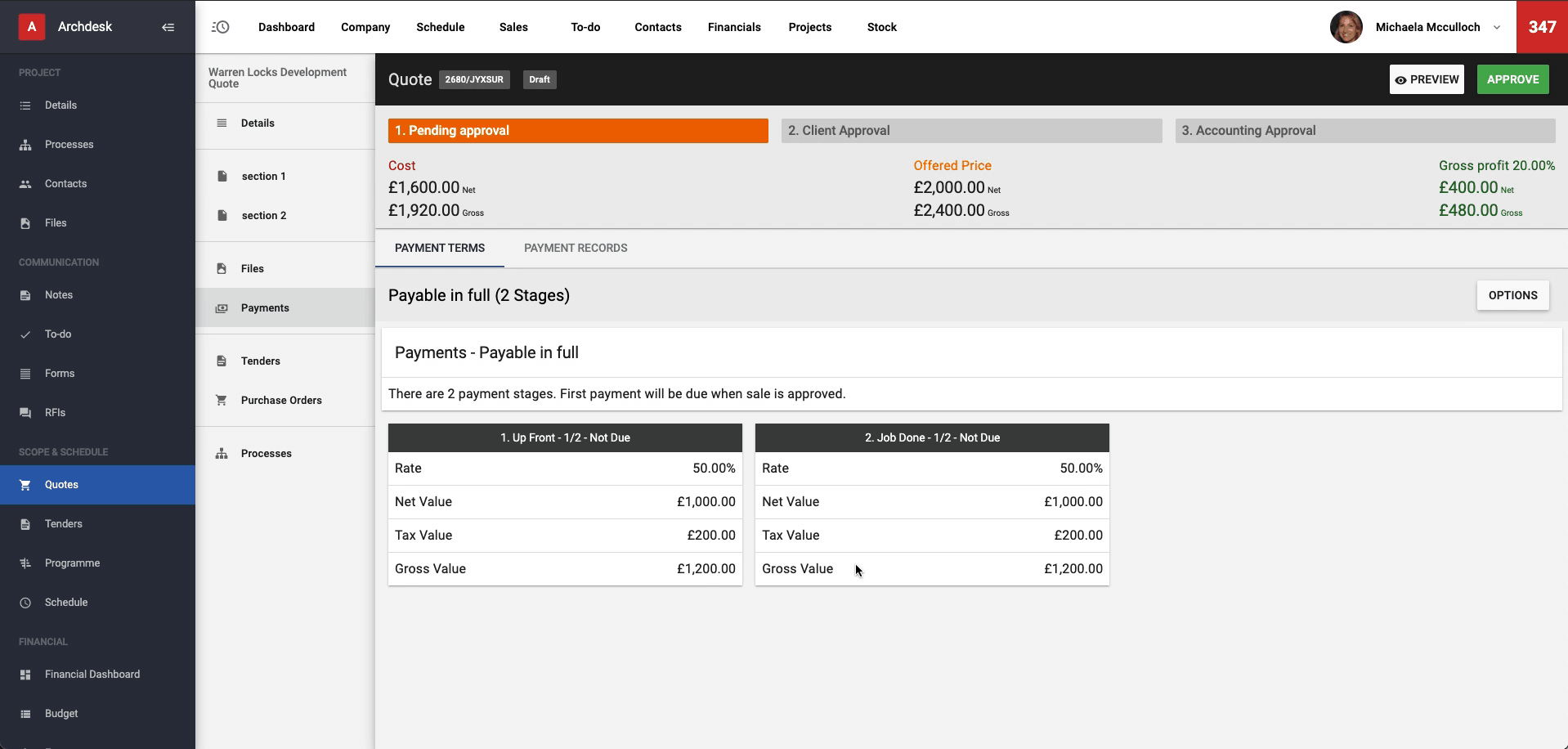 B. Create the Sales Invoice and then add the Incoming Payment
We have an Incoming Payment (50% - at the end of the job). Here are the steps to take:
Create the Sales Invoice inside the Project and Save it - make sure it is fully approved.
Go back to the original Quote > Payments > Mark the 2nd Stage as due.
Go back to the Invoice > Financial > Add incoming payment.
Once that is done, the 2nd Stage will be marked as paid.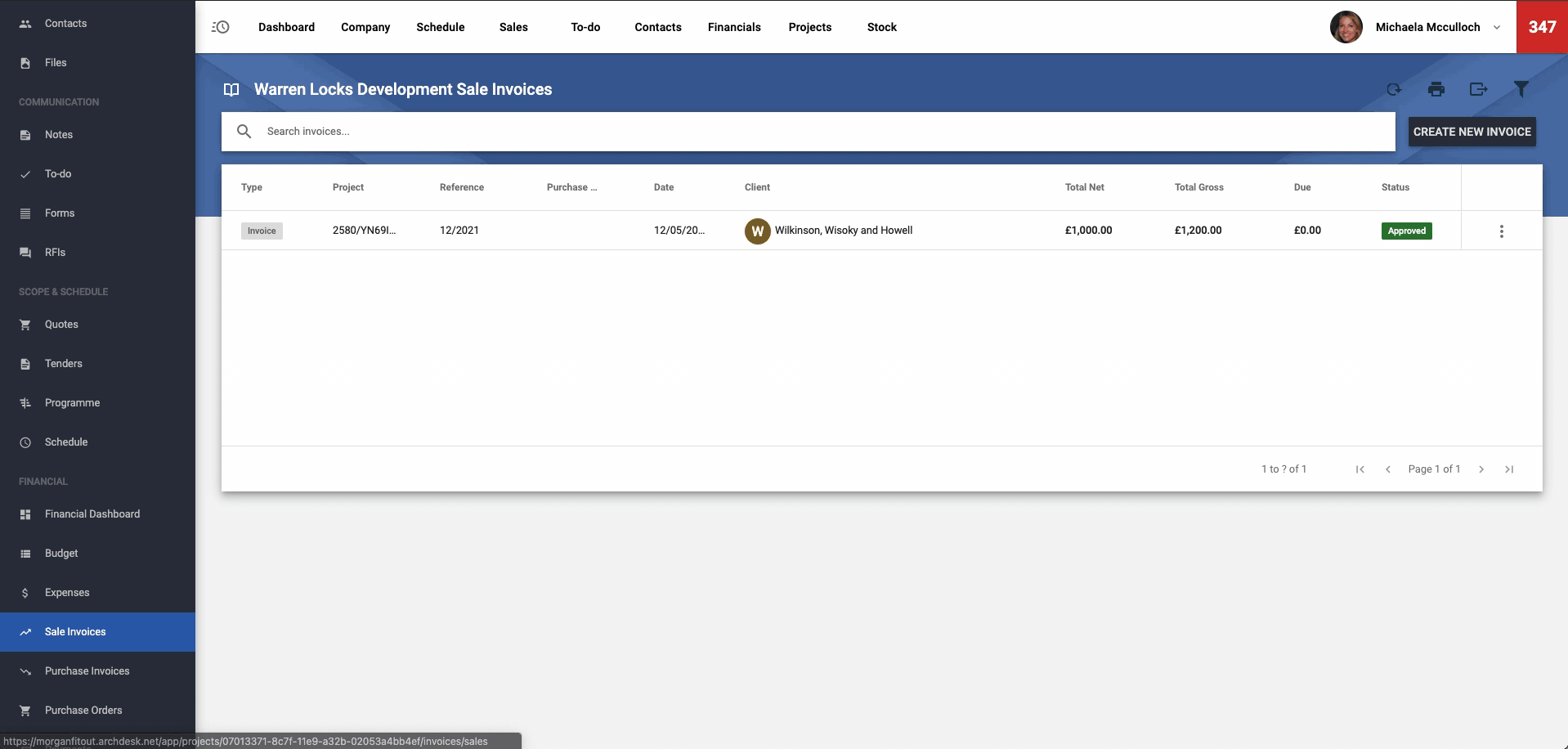 It all comes down to the way you will record the data in Archdesk. What we want you to know is that Archdesk can do this both ways, giving you the flexibility you need.
NOTE!!! Please bear in mind that you also have the possibility to create Invoices and record Payments outside the Quotation!